Best Nintendo DS Emulator For Android to Play NDS Games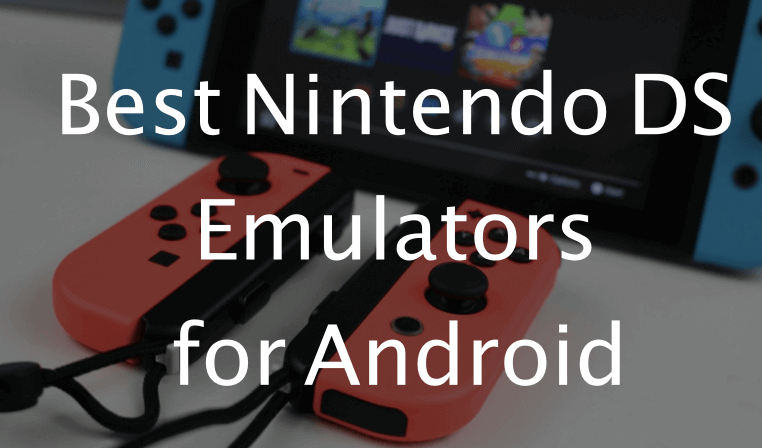 Nintendo DS emulator allows you to play your favorite Nintendo games on your Android device. To play games on the Google play store, you first need an appropriate internet connection.
But while connecting the Nintendo DS emulator, it doesn't require any internet connection. You can enjoy your favorite Nintendo games on your device whether you are at home or at any other place.
Nintendo games are suitable for every age group whether it's a school student with a tight schedule or a person affiliated with any kind of profession, there are games available according to the mindset of every age group.
Here are some of the highly rated Nintendo DS emulators for Android to Play NDS Games discussed below.
My Boy
My Boy is one of the best free emulators which you can avail on the Google Play Store. It is considered as the only emulator that bears the link cable emulation. It supports Android versions as low as Android 2.0. It runs on the low-end phones easily without being crashed. It helps in running many Nintendo DS games without any existence of the errors.
The most incredible feature of this emulator is that you have the chance to increase the game speed by as 16 times. You can stop ads showing during the game and unlock more features as well with the help of the pro version. You can sync your game data with the Google Drive and play them on various devices. It also lets users search for their own keys and supports external controllers like MOGA.
NDS Boy
NDS Boy emulator is designed for the mid-range phones which have at least 2GB of RAM and quad-core CPU. It let users adjust the screen and move buttons on the screen. It also supports portrait as well as landscape modes. It allows users for the saving and loading game states from the emulator itself. It also has an option to autosave the game in every specified amount of time. Therefore, if your game gets damaged, you don't need to play all over again; the game will start from the recent save.
MegaN64
MegaN64 emulator is designed over the base of Mupen64+ which is an open source project. This is one of the amazing working Nintendo 3Ds emulators for the Android. This means that MegaN64 modified the original code to make it more enhanced and advanced.
The changing can be made to make improvements for some well-recognized mobiles like Google Pixel and Samsung Galaxy S4. It can even run smoothly on phones as old as Android 2.0.
Desmume Nintendo 3DS Emulators
This is one of the most flexible Nintendo 3Ds emulator available on the Google play store for free. This emulator has its distinct specifications and available for almost every operating system like Windows(64 and 32 bit), Mac, and Android.
This android Nintendo DS emulation application to Play NDS Games is available for free and can be downloaded on the Google play store. It works more efficiently with enhanced smartphones having high memory and RAM.
NDS
The NDS Boy is also compatible with RAR and many other file types. It doesn't not only assist in the download of these files but also guides how to use them. This DS android Nintendo Emulator to play NDS games invented many years ago and can be downloaded from the Google Play Store for free.
As it was invented many years ago so such presence of this application in the market enhanced its productivity in providing smoother gameplay for almost all Nintendo games has made it well-recognized all over the world. NDS is an open source application which doesn't violate the GPL. It provides a feeling which is alike to that of the traditional Nintendo 3Ds console on the Android devices.
Ultimate x3DSx Gold
This emulator is considered as most reliable and incredible Nintendo Ds emulator for the Android/PC to play NDS games on devices. It supports almost all Nintendo games when downloaded and installed. It also facilitates with astonishing features like permitting the use of external controllers, access to a solar sensor, tilt, gyroscope, and many more.
Drastic
This emulator is well-recognized in other Nintendo DS emulators for Android/PC devices. It supports the smoother and incredibly faster play of all the classic and interesting Nintendo 3Ds games on the Android devices. It gives you the chance to experience the best resolution and graphics quality in most Nintendo games.
You would never have such an incredible and amazing experience with this 3DS emulator for Android. You are allowed to mold it according to your own choice and enhance your gaming experience. You would have the opportunity to load the multiple games at the same time. You can also do switching between them and every game can get a load with your configurations which you would prefer.
RetroArch Emulator
It is the only emulator which can load the Nintendo's DS games. The RetroArch is a multi-system emulator which is still in its development and it is a little bit unstable. It is considered as different from the other emulators and also recognized as difficult to grasp and understand. It can run many other formats along with DS, Nintendo 64 and NES games. It is a multi-system and it is available for almost every OS which include Windows, Mac, Android, Linux, Raspberry Pi, and many others.
Matsu PSX Emulator
Matsu is a multi-emulator available on the Google play store. It supports Nintendo DS games and along with the Nintendo 64 game files. Other than Nintendo consoles, it can also load games of other consoles like PSX, PSP, NES, SNES, and GBA. This emulator loads different functions such as game save and load state, fast forward, and rewind. It is available on the Google play store for free and there is not any existence of the functional restriction.
3DSE
3DSE is a latest and enhanced 3DS emulator for the Android devices in its Alpha stage. Therefore, you would see some bugs. Currently, it is not available on Google play store and it is only available on Apitode App store. It entails further BIOS for the emulator to get active and work.
Pretendo NDS Android Emulator
This Nintendo DS emulator for the Android devices let you enjoy playing a host of classic Nintendo games on your Android tablets and the smartphones. You can also have the luxury of loading the ROMS in .DS and .ROM formats as well as in .RAR and .ZIP compressed formats. You shouldn't forget the ROMS must be legally purchased as this emulator comes with no preloaded ROM by default. The controls of Pretendo NDS emulator are flexible and easy to understand and grasp.
Recommended Reading : 
This flexibility occurred due to the adopted virtual controls of the Nintendo DS console as well as the ease of using the finger in the lower screen area as a 'stylus'. As compared to the traditional Nintendo console, this emulator can give you the most convenient game control. The feature of the"AutoSave" of this software gives you the opportunity to save the progress of your games automatically between certain time periods. This feature gets linked with the options of disabling graphics and sounds which make the Pretendo NDS emulator one of the best for Android devices.
Author: Syed Azeem Haider is an author of this article. He loves to write about latest happening around the tech world. Azeem is currently working in Technologist360 as senior content manager. Technologist360 is an authorized reseller of Charter Spectrum (an award-winning charter cable TV services Company of USA).