6 Ways You Can Check Who Viewed Your Instagram Profile/Account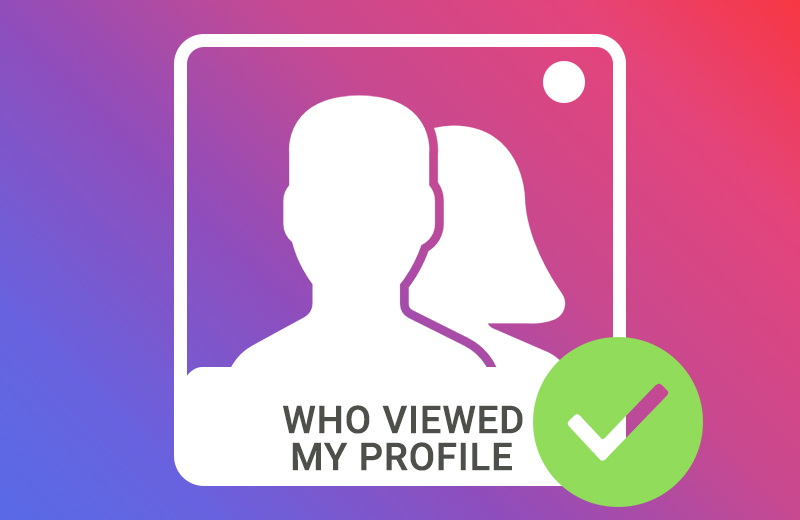 'Who viewed my Instagram profile' — If you're a crazy Instagram lover with a public profile, this thing must comes in your mind many times.
Let's start with – What is Instagram? When Launched? How become most popular Social Media?
Launched in 2010, Instagram gained rapid popularity as one of the best social media platforms for uploading photos and short videos. With one million users in two months and moving onto a quick 10 million in just a year, Instagram can be termed as the best photo sharing platform in today's date.
In 2012, Facebook acquired Instagram thus making it one of the best apps for promotional activities. Boasting of an invincible 800 million users in the year 2017, the popularity that IG has gained in such a short period of time remains unmatched. Almost all celebrities have an IG profile that they use to stay connected with their fans and for sharing their social life. And not just celebrities!
From entrepreneurs to marketers, from bloggers to influencers – everybody uses Instagram to promote their brand.
As for me, I would be lying if I told you that I never wanted to know who has stalked me on social media platforms like Instagram and Facebook. We all want to know who our admirers are, don't we?
But unfortunately, unlike the algorithm of Facebook that allows you to get a vague idea of who all has visited your profile via the friend suggestions, Instagram has a quite a tight policy when it comes to revealing who all have viewed your account.
If you are an influencer or a blogger with an Instagram profile, then it does become a problem to check the kinds of people who are going through your IG profile. And that is precisely why I am here today! To give you the six best ways in which you can check the visitors of your profile.
So why is it important to see who has gone through your Instagram account?
Before I tell you about the ways through which you can check the footfall on your Instagram account, you must first understand why it is vital to check the views on your Instagram. Here's why!
With so many bloggers and lifestyle influencer using the platform to promote and build their brand, it becomes vital to have an idea of how well you are doing in this rat race for popularity. When you get to know the views and who all have visited your profile, it becomes easier for you to ascertain your rank of popularity in comparison to other bloggers like you.
Moreover, when you are able to see the kind of people who have been checking your Instagram page, it will give you an idea of the crowd that you should target. If you think your followers are not the people you have aimed, you will know that you need to make changes to your existing social media plan to be able to target the desired audience.
That is not all! Stalkers can be at times quite obsessive and harmful. They can steal content from your account or even misuse the photos posted by you on your IG handle. Therefore, for security purposes, it is crucial that you have a clear view of the types of people who visit your profile on a daily basis. If you get to see who all are stalking you on Instagram, you will be able to take necessary safety measures and avoid any unwanted and undesired situation.
So now that you get why it is essential, let us get to the point and see how you can keep an eye on the traffic on your Instagram profile.
Best 5+ Ways to Find Out Who Views my Instagram for Free
Since Instagram does not come with the option to be able to view the visitors, there are some third-party apps that you can use for the purpose. Here is a list of the best applications.

One of the best third-party apps, Follower Insight App lets you keep track of the visitors who have viewed your Instagram account. The app has a straightforward interface and is quite easy to use.
With Follower on your phone, you can easily keep a track of those who have followed you, or un-followed you or even blocked you on Instagram.
The app notifies you every time someone blocks you or un-follows you. And the best thing about the app? It is absolutely free of cost.

The SocialPlus app is known for its accuracy and even shows you results for the views on your Instagram stories. The app is quite simple to download and use on your mobile. Like the Follower app, SocialPlus too alerts you when someone follows your account or un-follows you.
As a bonus, it also notifies you of the people who have blocked you or have not requested back to follow you after you have sent them a follow request. The app also helps you see the ones who have responded most of the times on your posts and stories and thus helps you to engage with them better.

The app InstaViewer shows you the last 200 views of your photos, videos, and profile. If you are searching for a way to find out who all have gone through your Instagram profile, then you can give this app a try. The app is available in the App Store, and you can download it for free.
The app is available in both the versions – for iOS as well as for Android. The app is a favorite due to its accuracy and simple interface which makes it an enjoyable to use.

Another great app, Views for Instagram helps you to keep a check on the viewers and stalkers on your Instagram profile. Not just the posts, but you can also check the viewers of your IG stories.
This app too is an easy-to-use application with a lucid interface that even provides you with an instant report of the various external activities on your Instagram account. This brilliant application is free of cost.

If you are wondering how you can possibly keep track of the viewers who check your IG account on a daily basis, then this app might just be the one for you.
The app is a free one and blends with your Instagram profile like magic. You can even get regular reports of the people who visit your Instagram account to understand which kind of crowd show more interest in your stories and posts.
Download and install the app on your smartphone to get instant notifications about the activities on your Instagram posts. The app is known for its fast operations, and you will feel fortunate to have found such a fast and reliable app.

If you are still looking for a third party app to check the visitors on your Instagram account, then here is another app from my list of personal favorites. This particular app is very simple to download, and you can simply install the application on your smartphone from the Google Play store or the Apple app stores for Android and iOS devices.
After you install the app on your phone, it collects the data of your IG account to calculate the accurate number of individuals who have viewed your account the most. With this app, you can also find out who has shown more interest in your pictures and stories so that you can reach out to them to maintain good relationships.
Instagram is a great way to influence people all over the world. Perhaps, that is the reason why most bloggers and marketers are including it in their social media strategy. If you want to tap the potential of Instagram, then you must also keep track of all the visitors who view your profile on IG or show interest in your daily posts and stories. With the above apps, you will be able to do the same to ascertain that your followers are not harmful to your reputation in any way.
Video Guide – Know Who Views Your Instagram Profile ? Stalkers | Secret Admirers

Author Bio: Being a versed writer, Arif Rashid has found the inspiration in the generation of millennial while creativity connects to your writing. He tries to discover new trends in the world on technological aspects. Love to write blogs endlessly and enlightening others. He develops the skills and mindset to navigate constant change and build resilience. Presently he is part-time writer at MyAssignmentHelp.