5 Creative Ways to Design Your Backyard Around a Hot Tub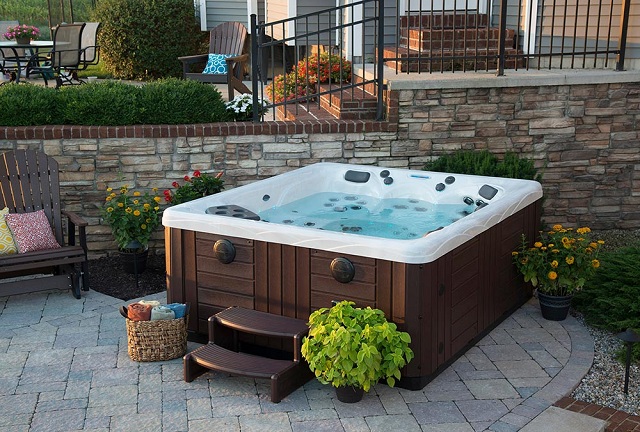 Whether it's for relaxing or for entertaining, create the perfect backyard getaway when you implement any of these 5 hot tub design ideas. Then, when you're done, all you have to do is enjoy.
1. Create a Built-In Look
Recessing your hot tub partially or completely into a surrounding deck creates a custom, built-in look. Your views won't be obstructed and your sight lines will be left undisturbed.
A couple of things to remember before recessing your hot tub:
Ensure your deck structure is strong enough to support the weight of a water-filled hot tub.
Fully recessed hot tubs may be more difficult to enter and exit than ones that are partially recessed.
Be sure to allow easy access to the maintenance panel and motor.
Ways to create a built-in look include encasing your hot tub with wood or stone, adding wrap-around steps, or sinking it into the ground level with the surrounding grass, patio, or deck.
2. Maximize the Views & Maintain Privacy
When deciding where your hot tub should be located, don't place it far away from the doorway to the house in order to maintain ease of access. You do, however, want it in an area protected from wind or an undesirable amount of sun or shade.
If you are blessed with a beautiful view from your backyard, take advantage of it. Try and maximize the views from the hot tub without sacrificing privacy. Maintaining privacy will make guests feel more comfortable, allowing everyone to fully enjoy the benefits of hot tub ownership. A few ideas for increasing privacy are:
Build a trellis and plant climbing vines such as clematis or grapes
Construct an artful privacy screen out of wood, fiberglass, or metal
Plant bamboo, trees, or shrubs
Hang either sheer or opaque outdoor drapery panels
3. Cover the Hot Tub with a Pergola or Gazebo
A pergola or pop up gazebo will add shade, protect, and beautify your hot tub deck. You can even place your spa inside an enclosed greenhouse with large windows. For a more budget-friendly option, a patio umbrella will work just as well.
4. Install Extra Seating or a Bar
Providing extra seating around your hot tub for guests is necessary and there are many variations on how to do it. One of the most eye-pleasing ways is to build seating directly into the deck or patio itself by using stone ledges with wide tops to allow for sitting, wooden benches, extra deep steps, or even tree stumps and boulders.
If you don't want to fuss with built-ins, flanking the hot tub with a table and comfortable chairs will make guests just as happy.
Having a bar on a side of the hot tub is a nice touch. It allows guests, both in and out of the hot tub, a place to set their drinks and snacks or a towel and sunscreen. Be sure to add comfortable, stylish bar stools to finish the look.
5. Beautify the Space
If you want your backyard space to truly shine, make it beautiful with plants, accessories, and lighting.
Plants. Nothing brings in natural beauty like flowers, succulents, tall grasses, shrubbery, and trees. Whether your plants are in colorful pots or right in the ground, are colorful or monochromatic, or have a structured look or are a more freeform style, you simply can't go wrong.
Accessories. Cushions, throw pillows, and rugs are an ideal way to bring your own style to an outdoor space. Put up wall hangings, wind chimes, birdhouses, and other decorative touches. Modern, rustic, asian, and traditional are just a few of the themes you can use for inspiration. You can find so many ideas and save money on them if you shop online with a Hayneedle discount code.
Lighting. Uplighting the trees or architectural details of your home will add depth and light to dark corners. You can also utilize a fire pit, tiki lamps, candles, hanging lanterns, or party lights to up the romance or fun quotient. Also, be sure the perimeter of your deck and also your stairs are well lit to allow for safety.
No matter how you choose to design around your hot tub, making it a stunning focal point in your backyard will delight your family and guests!
About the Author: Danielle Adams is a freelance writer who works with many publications including Bullfrog Spas. When she's not writing, Danielle enjoys practicing yoga, meditation for stress relief, and learning more about hydrotherapy.