6 Clever DIY Ideas for Kid's Birthday Party

If you are projecting DIY ideas for Kid's birthday you can rely on our pretty cool ideas. We will follow you the beautiful way of how to arrange the decoration, invitation and other things at your cost. Yes, you will be guided how to save money on preparing the party at the lowest possible cost.
DIY project is better to save the extra money, but requires plenty of time before planning. No worries, you can involve your kid in this kind project. Let's move ahead with subtopics described under here.
Order online mouth watering candy basket delivery for kid's birthday party is the best idea.
Printed Invitation
If you want to make a DIY card invitation you can make it from this Mickey Mouse Invitation card. Get scissor, black and red color card boar, glue and black marker pen.

First cut the black color Mickey Mouse shape. Now cut the red color semi circle and glue it on the black Mickey Mouse looking as an envelope to stand the printed card in it.
A yellow color dots on the top of red envelope defines the bright eyes of Mickey Mouse. You can get loads of ideas of printable card designs from the internet; you can download funny faces, digital invitations prints and get it printed on the simple envelope.
Beautiful DIY Garland
If you are landing the proper execution in the birthday party, beautiful DIY garland is a good idea to go ahead. You can make the multicolor garlands using colored papers.

Take light blue, yellow, pink, white and black color paper the color paper and cut into the small circles and hearts. Now you can tie the garlands as per shown in design. Now pick confetti balloon and hang the garlands. Your beautiful DIY garland is ready to get the superlative decoration never imagined before.
You can also use Mylar balloons, Smiley Balloon, Photo balloons instead of simple pink balloon
Decorate Photo Booth Props
Creating multicolor photo booth props are the easiest task. Get the printable props and color it as per the theme party. Balance the props with dowels. Your nice homemade props are ready to catch the memorable Picture.

If you wish, you can also enhance the decoration of props by hanging colorful silk strings, glittery strings on it. Also make some monster masks, batman mask, and spider man mask using this trick.
Make Candy Bracelets
It's quite interesting and Yum treats for the candy lover kids. You will require Peach rings, Gummy Lifesavers, Frosted Cheerios and Fruit Loops stringing around with nylon thread. Place it around your kid's arm. Bracelet is ready to enjoy the children a mouth licking taste.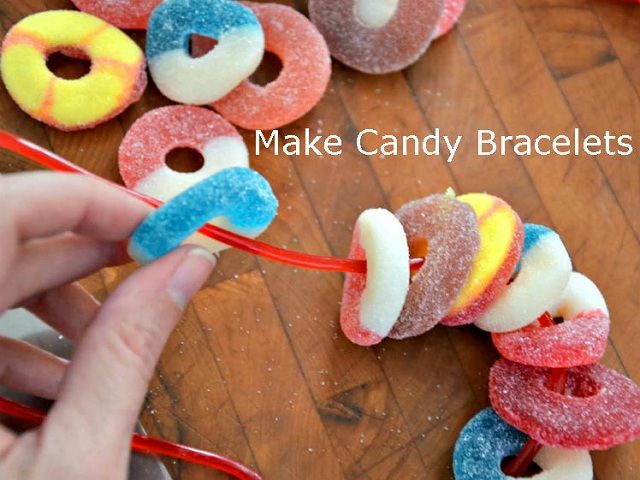 Like this you can also make necklaces, earrings and finger ring and other interesting edible jewelry for praising a birthday girl.
Decorate Craft Frames
No one can get the simple but eye-catching frames than this. There are unlimited craft ideas available for making the unusual and unique personalized frame. First use the hardboard and fix your photo on it. Now the time is to decorate the edges. You can stick decorative cupcakes, colored tissues, with glittering confetti and even with striped straws.

For increasing fun part you can use stencils and glue the toy cars on that designer stencils. Instead of cars you can use multicolor butterflies, faux flowers, silk ribbon, and polka dot ribbon for the girls photo frame.
Confetti Table Runner
Want to add more shine in the party, shimmering confetti table runner craft will help you in getting this. You will require just two to three materials like butcher paper, glue and most important confetti dots. Confetti dots are easily available in the market. If you have collected all the things, let's begin with the procedure.

First cut the butcher paper in the rectangular shape of around 1/3 of the width of the table. Now start sticking golden confetti on the butcher paper. Set all the confetti as per your desire and let it dry for some time. Now your confetti table runner is ready to glaze your kid's party.
If you want to avoid glittery shine, you can color the dinner table with multi colored dot table cloth. Paint the multicolor dots on the table cloth to add more color in the party.
Kindly follow to the tutorials we have made to get the best decoration in the birthday without spending much penny. If you are on the go for decorating party, this guide will help you in arranging the party in your budget.
These are less costly and very exclusive birthday gift ideas for your kids. It is a festive collection of crafts that won't burst on your budget. Why to waste money on the luxury decoration affects to your pockets. We have executed money saving tricks for the partygoers.