11 Amazing Games like Pokemon Go You Should Install & Play

Pokemn Go – This is the game that people never forgets. It changes the entire gaming industry totally. There is a new dating service for Pokemon Go players called "PokeDates". The service matches users based on a questionnaire and then coordinates a time and a PokeStop to meet at.
When the concept of Augmented Reality came into the existence, the one game that took World by storm happens to be Pokemon Go. The Pokemon Go hack became equally popular. AR means that app enters the world of reality and that is the only way it can function.
Within short period notice of the time, it became everyone's favorite. Niantic.Inc created this game where you can hang around, find the Pokemon's and capture them. Every iOS and Android phone can download, start playing.
Augmented reality games also known as AR, are becoming the pacesetter in the gaming industry. In simple terms, if we try to put it then it means you can capture creatures, find the hidden animals etc. Also play this popular game 8 ball pool unblocked version.
It makes you feel as if in reality they are hiding somewhere in the corner. But that's just the illusion you feel. And guess what? All of this possible without spending bucks on a headset. Are you tired of playing this game? In this guide, we make a list of creative games similar to Pokemon go created by expert developers around the world. This game brings augmented reality to the mainstream (Real Life). But since we wrote this, we have noted a spike in car accidents and people getting injured in all sorts of Pokemon Go accidents due to inattentiveness. So please be careful when you are outdoors playing this game.
Well, we have curated a collection of all the Pokemon GO game alternatives that are similar to it.
List of Best Games Similar to Pokemon Go
Ingress
Real Strike
Zombies Run
Parallel Kingdom MMO
Clandestine Anomaly
Geocaching
Father.Io
SpecTrek
Genesis Augmented Reality
The Walk
Dragon Mania Legends
Go ahead and take a look at the below-mentioned list.
1. Ingress – Most Amazing Games Like Pokemon GO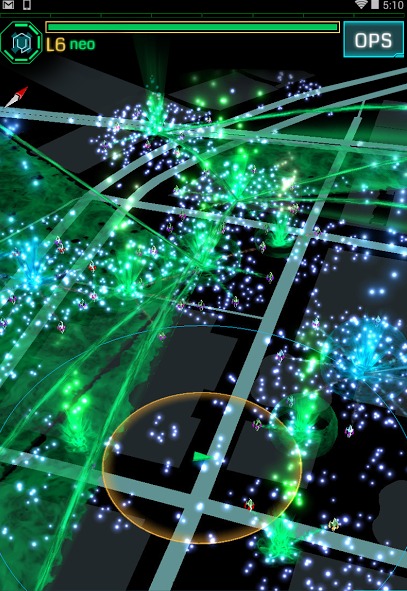 If given to define what kind of game it then it's all about mystery and conspiracy. The European scientists discovered an unknown powerful source of energy into the world. Being divided into two forces, the enlighten ones strive to attain this force while on the other hand Resistance will defend the humanity against the force.
Ingress is a GPS based game similar to that of Pokemon Go. You can "Hack" them for portals, strengthen your force and bring them together to create "mind control fields." And in return, you'll receive game badges. So, if you are expert gamer and want to play games like Pokemon go then give this game a chance.
Click Here to download: Ingress
2. Real Strike

For someone who has always been fond of playing shooting video games, the Real Strike is an absolute joy. The game is being played in the virtual field which is exactly like a military base.
With 25 different kinds of weapons accessible to you, it brings your real-life surroundings in form of 3D gun animation. In fact, this happens to be the world's first FPS game that is augmented reality First-person shooting game. Developers create this bestrAR games like Pokemon Go for a different feel.
Click Here to download: Real Strike
3. Zombies, Run

If you find games like Pokemon go then you need to check out this fun loaded game that's all about making you fit. But, guess with whose help? Zombies!
In this game they will surround you and all you need is to run! (Gotta save our life) To experience the thrill it's advisable to use the headphones for sound effects.
You will be collecting supplies and get to unlock daily missions. The Zombies, Run is similar to Pokemon go but here you will be killing zombies instead of catching them.
download: Zombies, Run
4. Parallel Kingdom MMO

Do you enjoy watching past era of kings and kingdoms? If you do, then Parallel Kingdom MMO is meant for you. It's an MMORPG augmented reality game.
Basically, it means massively multiplayer online role-playing game. It's a game where depending on your real location game play is created. There are 40 levels where you trade with other players. Chat rooms, leader boards and so much more enough to give you an adrenaline rush.
The sole purpose is to move around, claim territories and you will earn experience. Gamer will definitely love to play this one if they liked Pokemon Go.
download: Parallel Kingdom MMO
5. Clandestine Anomaly

A GPS augmented reality game Clandestine Anomaly is alien invasion game. It builds a structure around you to defend against the aliens. I personally advised to play this games like Pokemon go because its' AR and quality features.
Moreover, the AR shooting segments are one of the features of Clandestine Anomaly. The player will be asked to take out robotic aliens from their locations. For someone who is fond of Tower Games then they'll be familiar with Clandestine Anomaly since it familiar to it.
In short, it's full of great ideas where the player is able to take the advantage of his/her Smartphone's GPS in a new way. This is yet another game similar to Pokemon Go.
Click Here to download: Clandestine Anomaly
6. Geocaching

Geocaching is an outdoor treasure hunt game. It's a perfect AR game. In this, you have to go and discover places to find hidden containers around the world.
However, we can say that it is related to that of Pokemon go. The difference is you will be finding precious gems.
Among all of it, the clues are coordinated with the GPS that result in getting the small cache too large container consisting of various kinds of trinkets. There is a premium membership option for you which will provide you several things. Also, allows you to achieve 500 geocache points. Yes, it's working mechanism and AI is similar to Pokemon GO, but the overall feel is much different for those who want to try something new.
download: Geocaching
7. Father. Io

Father.io turns your phone into an effective weapon that takes real-life laser tag into Augmented Reality games market.
Bringing the AR and first-person shooter battles together – Father.io makes everything thrilling. To shoot the real people with the imaginary game – that's all about the game.
A clip-on is powered with Father.io called Inceptor. It allows shooting people at 50 meters distance. Unique features like the rate of fire, potential damage, and much more are available.
With the help of GPS radar, you can win battles, find enemies and co-players. This is one of my my favorite game like Pokemon go.
Click Here to download: Father.io
8. SpecTrek

With many aspects, SpecTrek happens to be Augmented Reality Game for iPhone. The world is full of ghosts and your task is to hunt them down. Players from all over world become crazy about this game features.
With the help of your phone save the world before they cause harm to the world. Simply hold your phone flat to see map. It will help you to locate the ghost and catch them. Different ghosts with behaviors, stats and awards.
Furthermore, you can record the score online. May the game you play leads to you beautiful places. So, if you are into playing games like Pokemon go then give this game a try.
download Here: Spectrek
9. Genesis Augmented Reality

The first augmented reality trading card game is Genesis. To bring the characters from the digital world into reality point the phone at a character card.
And then the unit will come into existence via dimension. It stands apart from other card game you have ever played. So if you are into playing games like Pokemon go, this is also a good option for you.
The player will get the chance to experience real-time battle system. Each character is well equipped with numerous attacks, monster forces with the ultimate combination of foresight, skill and of course plans. If you don't wish to crush your friend then the single-player mode is obtainable.
download & Play: Genesis
10. The Walk

To be fit and healthy can be a tricky task with the lives we are leading. But "The walk" game right here will lend you a helping hand.
It's a fitness tracker game of 13-hour mystery that will unfold on its own as you continue to walk around your neighbourhood or somewhere else.
I am not going to spoil it by letting you know what you will discover. But if you are serious about getting for little more exercise you'll be hitting 10,000 steps per day.
Allow it to detect the motion detectors on the phone and of course map to locate you. It is bit pricey but not at the cost of fitness, right?
Click Here to download: The walk
11. Dragon Mania Legends – Popular all over the world

Do you like dragons? Breathe life into your dragons and prepare them for legendary battles! Visit the land of Dragons like a game of thrones. Yes, that's right, with Dragon Mania Legends, you will play as a villager in Dragon land and can upgrade your dragons by feeding them, and will produce dragon feed in farms. Start playing this game right now if you like playing Pokemon Go as you will get a familiar feeling os gameplay.
In the dragon land, you can choose & train different types of dragons like rock, air, fire and an even hybrid. Players can spend premium currency as a token on a VIP upgrade to unlock additional rewards after battles. You can free dragons from the wall. With excellent visuals & AR features, this game is definitely worth a try.
Click Here to Download: Dragon Mania Legends
So, there you have it. The above mentioned are few Augmented Reality Games like Pokemon Go that you should install. Give a try at least once. You are going to definitely love it.
Again, many of the games are GPS based, therefore, if your kids are playing – extra protection is needed. Most of the games above are Android and iOS-based that can be installed on any Smartphone.
So, what are you waiting for? Go, ahead and start playing. Like it? Share it!
However, do you know other Best Augmented Reality games like Pokemon Go for Android, iPhone, iPad, Android Tablet, Web and more available on the internet? Do drop a comment below if you like it or have any sort of queries.