11 Tips To Plan Your Road Trip Like A Pro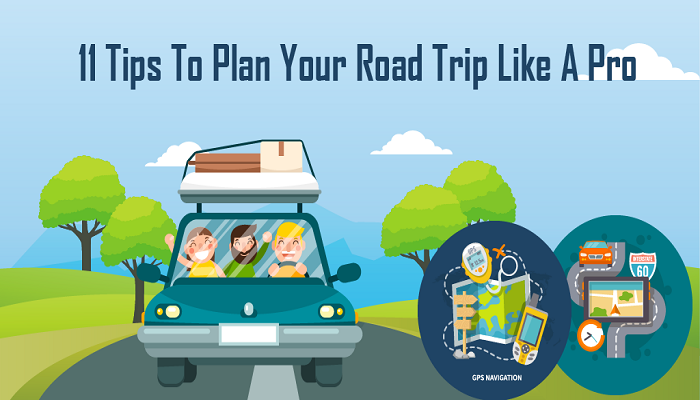 There aren't a lot of things that can get you excited quite like a road trip. Imagine this: you are cruising at 80-odd kmph, wind blowing in your face, your favorite track playing in the background, and you know for certain that none of your life's troubles can bother you at the moment. All you are thinking about is having the best possible time.
What you experience in such cases is the pure, unadulterated bliss only a few things in life can offer. To have a fun trip, though, having a plan is essential, and successful planning in itself is a skill few people possess. So, if you have a road trip on the cards, here are a few tips to help you along the way:
#1. Create An Itinerary:
For a good trip, you need to have a clear idea of where you are going and what you are going to do when you get there. Impromptu trips leave a lot up to chance, so what you need to do is have a rough itinerary to make sure you don't wander around aimlessly and get lost. Now, the schedule doesn't have to be fleshed out completely, but you need to have a rough idea of what you would be doing. Doing so will give you the flexibility to take a detour in case you come across a must-see location somewhere on the way.
#2. Don't Do Extensive Research:
A trip is only good when you visit a place with a little cluelessness about what you are going to find. For instance, if you research the destination well before getting there, chances are you will end up disappointing yourself as you tend to walk in with slightly higher expectations. On the flipside, if you have no idea what the place has in store for you, you are more likely to have a better time as it can't possibly be let down by something you hadn't foreseen.
#3. Use Tech To Your Advantage:
Nowadays, there's an app for just about everything you can think of. Make use of a personal finance app to keep track of the money you are going to spend on your trip. For example, doing a bank balance check on the BankBazaar mobile app is so easy. It also comes with a personal finance tracker that helps you track and budget your expenses. Constantly being alerted about the money flowing out of your bank account will keep you from overspending during the trip and stops you from resenting the fact later. The app also lets you track the latest petrol and diesel prices in and around the cities too. Thus, making you plan the route accordingly with ease!
#4. Carry Cash For Tolls:
Most highways have a toll plaza attached with them. So, when you are getting ready to head out on a road trip make sure to carry cash along with you. Of late, it's become a trend wherein most plazas either accept card or other types of digital payments. However, not all of them will have this option available for you, not all the time. Having some cash tucked away in the glove compartment will come in handy at some point during the trip.
#5. Check Your Car:
One of the most important things you need to go on a road trip is your car. And it would be rotten, if your car gives up on you while you are halfway into your trip. To avoid being stuck in such a sticky situation, make sure to check if your car is in good condition. In case you haven't serviced your car in a while, drop it off at your nearest authorized service station and get any issues with the car sorted. While collecting your car, make sure to refuel it to enjoy a smooth and peaceful ride. Also, if you want to budget the expenses and check out diesel prices, use the BankBazaar app which lists out fuel prices on a daily basis across all major cities and towns in India.
#6. Let Your Friends And Family Know Where You Are Headed:
If you have watched Danny Boyle's 127 hours, you know where we are getting at here. For the uninitiated, the movie is about Aron Ralston a canyoneer who gets trapped between a boulder in an isolated spot and nobody is aware of his whereabouts. Now, we aren't suggesting the same is going to happen with you, but if you don't inform your friends or family where you are, they may worry about you and have a cause for concern if they don't hear from you. So, keep them informed about where you are headed and if you feel like it, you can share your location on Whatsapp and other such apps from time to time, so that they can get on with their lives in peace while you enjoy your trip.
#7. Think Of Ways To Entertain Yourself:
Road trips are often long and there are times when you may run out of topics to talk about and you may not be in the mood to listen to music at all times. Instead, you can come up with games of your own to keep yourself and your co-passengers entertained. The more you can get in touch with the kid inside you, the better. For starters, you can make a game out of the number of billboards you will see along the way or the quirky messages that trucks have written behind them.
#8. Check The Costs In Case You Are Renting The Car:
Not everyone owns a car, and it is for these people that renting has come as a godsend. These days there are plenty of car for hire services which allow you to book a vehicle online either through the company's website or the app. Understand the terms and conditions involved. Most of them offer you free fuel and you will need to pay only the rent and they often charge if you go over the specified distance figures, and these costs may be a little too much for you to contend with. So, figure out all the factors the renting comes with and check how much extra you will have to pay in case you go over the limit before booking the ride.
#9. Document The Journey:
A road trip is never complete without a lot of pictures. So, whenever you stop at a particular place that you think is worthy of a picture, make sure to take them and always look to document the journey in whatever way possible. If the budget allows it, you can also use a GoPro or other action cameras to record the journey and make a movie out of the footage.
#10. Make Sure You Are Carrying The Spares:
A spare tyre, a spare key, extra fuel, clutch cables – you need to carry all of these when you are on a road trip. There's no telling when a tyre can deflate or when you will run out of fuel. So, carrying a few spares and a few extra gallons of fuel will help you be prepared for unforeseen emergencies.
#11. First The Best Spectacle The Place Can Offer:
Every tourist spot is famous for something. For starters, Rome is famous for the Coliseum, and Agra is famous for the Taj Mahal. This way, the place you visit will be popularly known for a particular tourist attraction. Find out what it is and make sure to give it a visit.
A road trip can be a great adventure as it can offer you the much-needed break from the typical urban surrounding. Keeping these tips in mind before you plan a trip will help you have a wonderful time throughout the ride.