3 Simple Ways To Build A Social Media Mobile App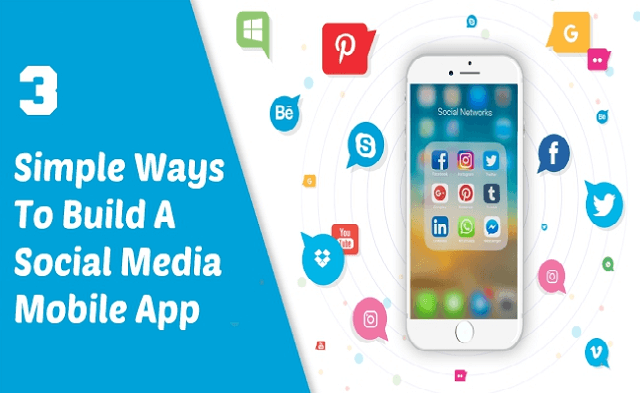 Social media apps play a dominating role in the growth of numerous small-scale businesses & enterprises. Interestingly, mobile apps for social media circumscribe more than 2.789 billion active users from the global population of 7.476 billion people. No doubt, the match of mobile app technology & social media app has been trending from the past few decades & that's why the demand of social media app development is set to rise in the upcoming years.
Many recent surveys may convince you to go for social media app development as they completely favour the extending popularity of these device-compatible applications with the global growth rate of 21% per year. So, you just need to consider the facts indicating the rise of the most popular social media platforms including Facebook, Twitter, Instagram, Snapchat, & more. Unarguably, a social media app can bring wonderful opportunity for your business growth as well as increased revenue generation. Now, you can make your mind & hire a mobile app developer who can transform your idea into reality and bring an innovative social media app with exceptional features & outstanding functionalities.
Every professional mobile app developer is familiar with the latest technologies & its basic elements that are required for developing a social media app.
So, you must enlist the basic features of a social media app to create a useful product:

Users like effortless accessibility to the features & functions of your app. You must integrate the exceptional functionality that allows users to register themselves via other social media accounts including Twitter, Facebook, Google+, & more.
In this way, users can easily sign up using your existing social media accounts in just one step. It will merely take 2 seconds to create your account or login directly to a social media account & get started. This feature will definitely work if you want to multiply the number of users.
Personalizing Your Profile
Your users might like to get recognized with their own profile names. You must focus on this feature that allows them to create their own profile & customize it by adding pictures, username, short bio, interests, preferences, location, & other activities.
Don't forget that your product is a social media app. It simply means that your app must have "follow" & "add friend" option to connect with the interested user on the other end. People follow other users & connect with them as per their interests, likes, dislikes, groups, and other factors.
Social media offers a wide platform for those who want to share their thoughts & ideas with their friends or social groups. Many users don't like to see undesired posts on their timeline or news feeds and therefore, you can also put a word limit on every post. Interactive content includes audios, videos, GIF, etc as they gain everyone's attention in the social media sphere while filters, stickers, & live streaming updates remain in the topmost trend.
Today, a distinctive feature is introduced that enables users to share their stories that will remain active for 24 hours or the specified amount of time.
Interpersonal messaging is a crucial feature of any social media app. If you want to make your efforts in a right way, add an instant messaging feature to make it useful for those who want to communicate in a personal chat room. However, the instant messaging feature is essential if your social media app targets on intrapersonal as well as interpersonal communication.
You must keep all above features in mind if you want to build a high-performing social media app in 3 simple steps that are as follows:
Your dedication to social media app development indicates that you can effortlessly strategize & define your plans. You can explore the market & categorize your target audience in order to come up with using social media app that will become popular among the prominent users.
Start your social media app development process with a well-defined sketch. If you want to work on your own app idea, you must begin with sketching, wireframing, prototyping, & UI/UX designing. In this way, you can determine that how your app will look & function before the development process.
If you get positive feedback from the fully-functional prototype of your social media app, you can start the development process. You must build the back-end by setting up servers, APIs, coding, databases, & other technicalities of your app. Once you are done with the development process, do not forget to test the performance of your social media app & analyze its compatibility on multiple platforms.
Social media app development is not a piece of cake for everyone. However, you can simplify the app designing process by considering the above-given steps. Your experience, ideas, creative & technical skills will count to transform your ideas into reality & help you to create the best social media app.
Author Bio
Ashni Sharma works as social media app developer at AppsChopper. She upholds specialization in-app designing & development for social media domain. In the above article, she has described few simple steps to build a social media app along with its descriptive features.