VMOVEE Review – Is Vmovee Safe and Legal for Streaming Movies Online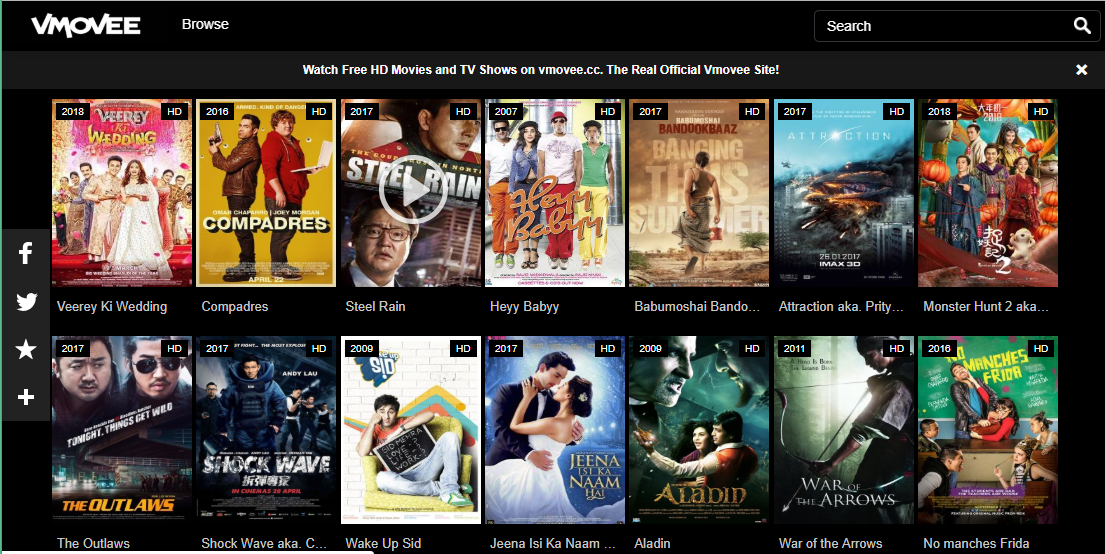 If you prefer to watch Movies through a website on a browser instead of using streaming apps, VMOVEE is a great option to go for. Although there are several free moving streaming websites out there, at VMOVEE you can have an easy and quick search result for your favorite movies. Also, you get colossal movie collection which includes several languages and genres that are easily accessible with well-viewed categories.
Though VMOVEE is easy to use and safe, its usage is limited to some locations. In fact, the streaming service is illegal in a few countries. So before you decide to use it, there is a lot to know about VMOVEE streaming website, keep reading to know everything about using Vmovee, including safety and legal concerns.
What Is VMovee?
VMovee is a free online video streaming website. It's very simple to use the site, here you don't even need to sign up on an account. All you have to do is open it on your browser and search for a favorite movie.
It features thousands of films and shows which include both copyright films as well as pirated films and more. Whether you are looking for the latest releases or a movie from a specific genre, you can find everything with ease through different categories.
The website currently uses vmovee. WS domain but it keeps on switching to other domains as well like vmovee.club and more. Most of the Vmovee link other sites to stream movies/TV Shows or embed videos instead of hosting movies on their sites; it might be to avoid legal actions. When you click on any of the links on Vmovee, you will be navigated to many other sites. Next, a pop-up window will appear on your screen featuring implications, advertisements, and more.
What Kind of Movies and TV Shows Are Offered?
Vmovee has a huge collection of movies which pretty much contains every genre films. Thousands of movies which even include movies and television shows which not yet ready to rent or buy. Along with popular shows, you can even find independent films of different countries like Korean films, Bollywood and more.
Is VMovee Legal and Safe to Use?
The legality of VMOVEE is questionable as it features pirated films. Vmovee sites do not offer direct streaming on their sites and navigate users to other sources. Moreover, users have to experience many dubious quality pop-up ads appearing on the screen, which sometimes can take them to unsafe sites containing the virus. This states that VMOVEE is not near to a safe or legal streaming service.
When you are using Vmovee, it is likely that the movie is pirated, thus you will be in a legally problematic position. So far, there is no trouble for streaming these contents, but you never if things change.
Thus you can not totally depend on the service. For example, you can actually be subjected to piracy if you stream download packets on your computer. Another way that can lead you to piracy is the download links. Many of the movies on Vmovee have these piracy download links; you will not know until you click.
With the current law, users will not have any legal problems for now. And most movie publishers are very much concerned with prosecuting uploaders. Still using you are at risk as there is no guarantee with law.
Can You Get a Virus from Watching Movies on VMovee?
Yes, using VMovee can lead the virus to your device. As mentioned above, Vmovee features pop-up ads redirects when you click to watch movies; this leads to high chances of a software virus. Also, you will find several download links on VMovee which opens up to unsafe websites, which eventually downloads viruses on your device.
Even if you accidentally click on the download link or pop-up ad you are likely to download a troublemaking virus. Note that here you can't differentiate in spam links and safe links as it will appear the same. Like the play or watch now button if you click it to watch a film or show if might link you to another site and not play the video, the linked sites might be unsafe and affect your device with viruses.
It's difficult to be aware of affected links, however, if you plan to watch a movie on this site, make sure you don't click on pop-up ads mistakenly. Just close the ads or re-directs as soon as they appear. Also, you can take precautions by installing a good quality anti-virus on your device, to save your device from any accidental virus downloads.
Vmovee site is also capable of leading you to 'Drive-by-Download malware infection. It is one of the common of the most common virus or malware infection. Here users can infect their device with a virus when they came across a malicious site even without clicking or downloading anything from the site. Sites like VMovee have high potential, where user can catch with these viruses through redirect and pop-up ads.
Can You Face Legal Action from Using VMovee?
Vmovee does not only lead you to the risk of the virus but also the risk of legal actions. Many countries prohibit the usage of websites featuring pirated films like Vmovee. To save itself from such legal actions, VMovee does not host videos on its platforms; instead, they embed these videos or links to other websites.
Complain against Vmovee app can be filled against Vmovee streaming service by companies who have legal rights on movies and TV shows featuring on the site in some countries. However, these complaints mostly do not result in legal actions. Now when a hosting provider is shut down due to any legal action, a clone is set up in just a few days.
For individual users, there is no legal action taken if they are streaming content and not downloading it. In spite of this internet speed of users can be throttled by some ISPs for using sites like Vmovee. Also, users can receive alarming emails stating to cancel their subscriptions.
Should You Use VMovee to Stream Movies and TV?
All the content on Vmovee site, whether pirate or copyrighted is obtained illegally. However, Vmovee is not the only website showcasing pirated films. Many other sites feature such content
for free as they don't pay for the content they stream on their sites.
The reason for these sites not getting shutdown is they don't host content on their websites but navigates users to other sources. Ans so Individual users are not affected by any legal action from a movie or TV studio, but that doesn't mean they will have no issue. They may face the consequences of their Internet services.
Conclusion:
Although Vmovee offers a convenient way of streaming movies and TV shows, it is not a legal streaming site. When you use Vmovee, you are open to download a virus on your system. Moreover, users can experience interruption from internet services. Instead of using free sites with illegal content, it's better to switch to a legal streaming service with a paid subscription.
We hope this blog has answered all your queries. If you have used vmovee or any other such content, you can share reviews with us through the comment section.
Author Bio –
Pooja Shah is a Creative Writer at Auto Monkey. We provide an original analysis of the latest happenings in the social media industry. Connect with Latest Social Media Trends and News plus tips on Twitter, Facebook and other social tools on the web.