9 Irresistibly Healthy Birthday Cakes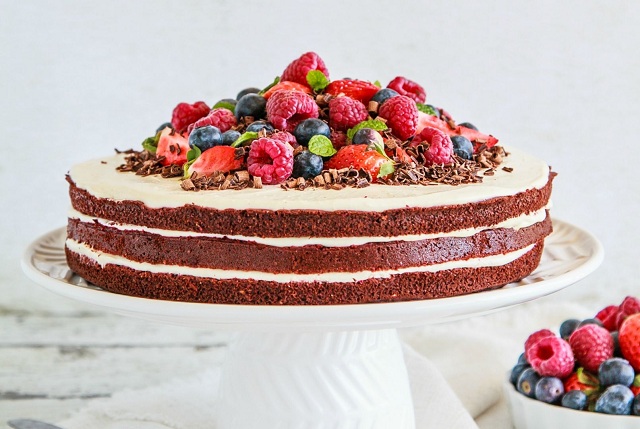 Who could resist a delicious bite of the cake? We bet no one can! Cakes are truly tempting. From their scrumptious flavors to their enticing looks, there's not one thing that does not evoke a sense of pleasure inside us on seeing this delightful treat.
But you might be holding yourself back in doubt thinking whether or not cakes are good for health. Ever looked for a healthier alternative to cakes? Well, we have made it easy for you!
Here's a list of 9 birthday cakes that are healthy and are not going to dampen your party spree at all.

This cake uses gluten free flour but still keeps the cake as delicious, healthy and moist. You can top it off with a cup of mashed blueberries or strawberries or just cover it with a thin layer of raw chocolate glaze for a healthier decoration. Other options are nuts and coconut crunch.

A kiwi cake is as nutritious as its taste. If you don't have kiwi fruit daily, go for choosing a kiwi cake for the birthday party and surprise everyone with its sweet cum tangy flavors. You can top it off in two ways. Either cut fresh thin slices of kiwi to top it off or cover the top of the cake with kiwi pulp.

This cake is made entirely of different fruits like strawberry, blueberry, dragon fruit, cherries, grapes, kiwi etc. For all those who refrain from eating a cake, we bet this cake is going to make you a fan just in one look, one bite. It is definitely a healthy option to send cake online even for a kid's birthday celebration.

Ice cream cakes can be healthy if you take care of ingredients right from the start. Choose gluten free flour and real food ingredients. Choose organic ingredients wherever possible.
5. Vegan Fig and Rhubarb Cake

Avoid using sugar and use various natural, seasonal ingredients for birthday cakes. Seasonal cakes include fig, rhubarb which do not require much sugar and are a great alternative to it.
6. Chocolate Zucchini Cake

What better way to make your kid eat veggies than hiding it in chocolate cake. This Bundt cake is made with unsweetened applesauce, cocoa and sugar. Combining the veggies with chocolate is one sure way you can make your kids healthy.

This cake has minimal sugar because of the use of pears. This looks fancy having an awesome taste but with just 190 calories per serving. Also, the use of ginger which we hate to eat otherwise would taste delicious in a cake.

This cake has two layers of banana cake with rich and creamy chocolate fudge. It is a little low in calorie as it does not include buttercream and less sugar.
9. Pineapple Honey Carrot Cake

Add a twist to your regular cake by using a carrot and sweetening it with canned pineapple and honey. Honey not only acts as a sweetener and replaces sugar but is a way healthier option than it. Besides, pineapple cake has always been a crowd pleasure.
With these tasty options to tingle your taste buds, order cake online and make the birthday celebration a perfect one.