Guest Post – How to Choose a Lehenga According to Your Body Shape For Ultimate Look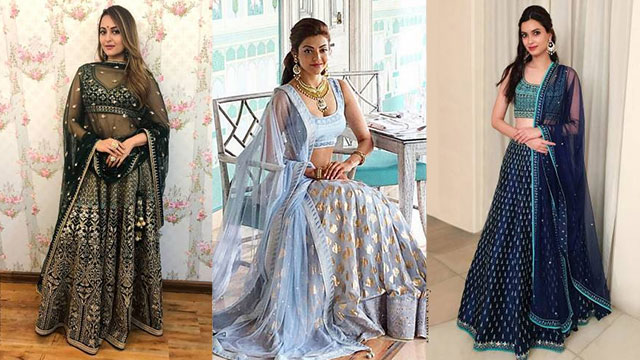 When a girl is about to be married, her lehenga for wedding is one of those items that she buys with utmost care and attention. Every bride-to-be dreams to look her best in whatever she wears on the day of her wedding, so it's not surprising that the amount of flare often acts as determining factor in the sales of bridal lehengas.
However, it's not just flare that makes a bride look gorgeous in her wedding lehenga. The most important thing is body shape, but sadly it's paid the least amount of attention when brides go shopping for lehengas. In this article we'll tell you how to choose a lehenga according to your body shape so you can look your best on your wedding night.
Let's begin:
#1. Hourglass (X) Shape
If your body is X-shaped, then most bridal lehenga designs can suit on you. But for your best look you should choose an A-line lehenga made of fluid fabric. Pair it with a short blouse that shows off your waist, and you'll look stunning.
#2. Rectangular Shape
Popularly known as H-shaped, rectangular shape means an athletic and skinny body without curves. Therefore, your wedding lehenga should create those curves for you. A wide, full skirt made of stiff fabric with lot of flare that adds volume to your bottom will be great. Pair it with a low and plunging blouse and you'll look perfect.
#3. Bottom Heavy
If you're very narrow on the top but heavy on the bottom, you've got what most people call an 'A-shaped' body. You should avoid lehengas with too much work and those which come with a fish-tailed design and fit very snugly. Get something plain and flowy on the bottom, and use horizontal details to make your bottom look proportional to your top half. The blouse should also be a highlight of your look, perhaps with a bit of padding (if needed) and a deep neck.
#4. Top Heavy
If most of your body weight is on upper side, you're either Apple shaped, V shaped or in the shape of an inverted triangle. In all these cases, layers will look best on you, because they can make your neckline look wider. So you should look for Jacket lehengas made of soft and sheer fabrics. Avoid off-shoulder, sleeveless and deep neck blouses.
#5. O Shaped
If your body weight is evenly distributed, the middle part of your body could be slightly chubby. Your face and legs may be slim, but not the waist and tummy. So you'll look your best in Sharara cut lehengas, which come with a frill at the bottom. Pair them with a hip-length top, or if you wish you can experiment with shorter tops as well.
Bottom Line
When you go to purchase your wedding lehenga, keep your body shape and its pointers mentioned above in your mind. You'll be very likely to get a lehenga that gives you the million-bucks look. Happy shopping!appy shopping!